The trendy colors of 2012 have been anything but boring. We have seen bright and bold colors both in fashion and the home. If you want to update your kitchen, you can create a modern feel by incorporating some of these colors. Whether you are planning to completely renovate your kitchen or just looking for small weekend projects, there are many ways you can incorporate trendy colors into your home.
Big Project: Take the Plunge and Paint with Bold Colors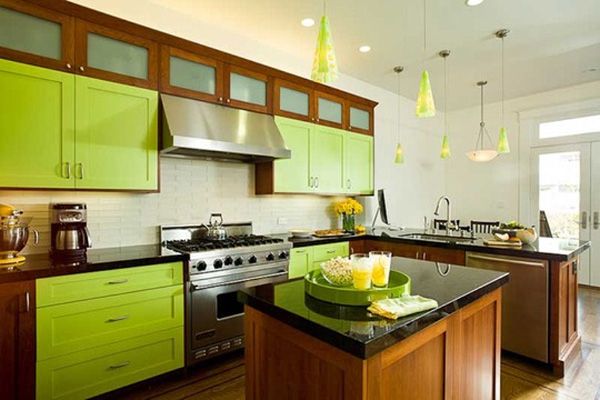 Image source: Barbara Bright Design
If you are a risk-taker and want to add some life into your kitchen, you can paint the walls in a bold color. You can choose one color, like Pantone's Bright Chartreuse (pictured above) or combine two contrasting colors. If you are adding bold colors to the walls it is important to keep your cabinets and accents as neutral as possible to avoid color overload. If this project appeals to you but you don't want to make such a big commitment then you can start by adding a bold accent wall to your kitchen and leaving the rest of the walls neutral-toned.
Weekend Project: Add Pops of Color
Image source: Monroebistro.com
If you are short on time and money, you can easily change the mood in your kitchen by strategically adding bursts of bright colors in small areas in your kitchen. Purchase some bright bar stools for your kitchen island like the bright red Uberhaus Design stools carried by
RONA
. You can also add bright vases and flowers around the room or even add some bright artwork. If your walls are bright or neutral, you can paint trims and mouldings in a bold color or paint stenciled design in the Color of the Year,
Tangerine Tango
.
Weekend Project: Use Your Leftover Paint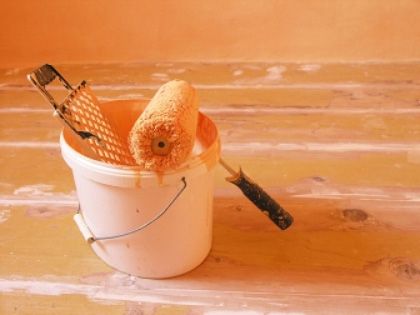 You can work on several projects with leftover paint, especially if it's a bold and interesting color. You can paint empty Mason jars and create flower vases for your kitchen. You can also create a unique rug by painting designs on your existing rug using stencils. If you are getting tired of your serveware, update it with painted designs.
Big Project: Wallpaper in the Kitchen
Image source: Gimi Design
Wallpaper is a big trend that is making a comeback this year, especially in modern designs and colorful patterns. Although the kitchen is an unexpected place to find wallpaper, it can add character and brightness to a kitchen. The "Leaves" Paintable Wallpaper can add texture to your kitchen walls and you can paint it in any color that you want.
Pin It Now!